The film Ek Ladki Ko Dekha To Aisa Laga, directed by Shelly Chopra Dhar (2019), tells the story and struggles of a young woman named Sweety who is trying to keep her secret of being in love with a woman. The Hindi film title translates to "How I Felt When I Saw That Girl", which doesn't just apply to Sweety´s love story – she also meets an admirer called Sahil who doesn't know about Sweety´s secret and will try to win her heart.
The film portrays the struggle of the LGBTQIA+ community to gain acceptance in society and was released in 2019, shortly after the decriminalization of same-sex relationships in India on September 6th, 2018. Nevertheless, same-sex and queer marriages are not yet recognized under Indian law and people from the LGBTQIA+ community still face discrimination and lack of understanding in society.
The story begins at a wedding, where Sweety meets Kuhu – the woman she falls in love with. They become a couple and meet secretly, while trying to plan their future together in London. Complications arise when Sweety´s controlling brother Babloo finds out and tries to restrict Sweety´s life in an aggressive manner, thinking of her sexual orientation as a disease.
Throughout the storyline various social aspects and norms are themed, such as patriarchal hierarchies within families, family´s expectations of traditional and heteronormative dating, interreligious relationships, homophobia and social acceptance of the LGBTQIA+ community in the Indian context.
Beginning with the character of Babloo as the overcontrolling brother, a patriarchal family hierarchy is shown: he is restricting his younger sister´s sexuality, freedom and life choices by talking down to Sweety and threatening her; he wants to "cure" her by marrying her off to a friend of his.
While trying to escape her brother on her way to the British embassy in Delhi, Sweety meets the theater director Sahil, who helps her run away and immediately falls in love with her. Their ways separate, but Sahil tracks her address down in a supposedly romantic, yet somewhat creepy manner and travels to Moga in Punjab where Sweety lives with her family. Sahil tries to get in contact with Sweety, who is locked in the house by her brother. He doesn't remain unseen by her family, who is strictly against him dating Sweety, after they find out he is a Muslim and not a Hindu like Sweety.
Traditional, heteronormative and conservative imaginations of dating and marriage come up multiple times in the film, as is already shown by the family´s active role in negotiating a marriage for Sweety and restricting her free choice. Sweety´s father forbids Sahil to marry his daughter, since he believes interreligious marriages cannot work out and lead to complications, while emphasizing at the same time that he doesn't have any problems with Muslims in general.
As Sahil doesn't give up trying to win Sweety´s heart, she finally tells him in tears about her being in love with a woman – to which Sahil reacts in insensitive drunk laughter. He apologizes on the next day after realizing his inappropriate reaction and tries to support her by suggesting to produce a local theater play in Moga, which would be about a lesbian relationship and homophobia in society, hoping to raise social awareness and acceptance.
Loneliness and feeling misunderstood as a queer person are portrayed at many points of the film, which enables the audience to grasp Sweety´s helplessness and sadness. Throughout her life she has been misunderstood; she has experienced bullying at school and being an outcast for years, after classmates found her diary with love messages directed to a girl. She thinks that she will never be loved and wishes she could just be "normal", so that life wouldn't be so suffocating for her. Sweety´s experiences allow the audience to experience the closeted feeling of hiding oneself and the fear of disappointing one´s family´s and society´s expectations.
Sweety´s relationship with her father demonstrates the fear of disappointing and not being accepted. The father´s character is shown as loving, caring and only wishing the best for his daughter´s future. Yet, he still supports brother Babloo in restricting Sweety´s life and convincing himself that it will be for her best, despite seeing her suffer in silence. As Sweety finally comes out to him during rehearsals for the theater play, he is shocked and shames her for humiliating him and destroying her family´s reputation. Later on, he is conflicted within himself: on the one hand he doesn´t want to accept his daughter being lesbian, yet on the other hand he sees for the first time how sad and lonely she has been in her life while skipping through her diaries.
At the premiere day of the play, the cast, with Sweety and Kuhu as the main characters, is confronted with reactions of homophobia from the audience, as they slowly understand what kind of love story they are seeing. As the first people are leaving and condemning the play for showing a lesbian love story, surprisingly Sweety´s father and brother are showing up, after having rejected Sweety earlier. Seeing his daughter being vulnerable on stage and fighting for her right to love, the fathers view is changing, as his love for her is stronger than his heteronormative expectations. The play comes to an end with a surprisingly heartwarming reaction of the father, positive feedback by the remaining audience and a hopeful ending for Sweety´s and Kuhu´s relationship.
The film shows a well-made lesbian coming out story of courage, love and being true to oneself. The much-needed lesbian and queer visibility shown in this film not only portrays the struggle of LGBTQIA+, but also explores patriarchal norms and gender expectations women are facing in society and in their families. The film is accessible on Netflix and is made well in its acting, music and scenery; it is located in the genre of comedy-drama, which succeeds at making the audience laugh at certain times, and cry at heartfelt moments. With the famous and popular actors Sonam Kapoor, her real-life father Anil Kapoor and Rajkummar Rao, and with music by well-known musicians such as Darshan Raval, Sukhwinder Singh, Arjun Kanungo and many more, the film is a full success and fun to watch.
Nevertheless, there is some critique worth mentioning, as for example the genre of comedy-drama seems to romanticize and play down certain points about Sweety´s coming out and all the complications she has to go through to be accepted by her family. Sweety´s character is also oftentimes portrayed as passive and as being in need for help from her charismatic cis hetero male admirer Sahil. Furthermore the storyline and film would have been more authentic and empowering if the characters of Sweety and Kuhu would have been played by openly queer actresses. I had also hoped to see more about the relationship of Sweety and Kuhu, yet Kuhu barely appears and the movie focuses instead more on Sweety´s family. Moreover, the emotional happy ending seemed even for a comedy-drama film somewhat exaggerated to me, which nonetheless doesn´t make this film in any way less worth seeing or less important. All in all, Ek Ladki Ko Dekha To Aisa Laga is an exciting contribution to queer-lesbian movies and a very much fun and heartwarming film to experience.
About the author:
Lara Kauter is a student of Geographical Development Research (M.Sc.) at Freie Universität Berlin. She holds a bachelor degree in Area Studies Asia/Africa from Humboldt-Universität zu Berlin. Her research interests focus on critical development research, global inequalities, protest movements and gender studies.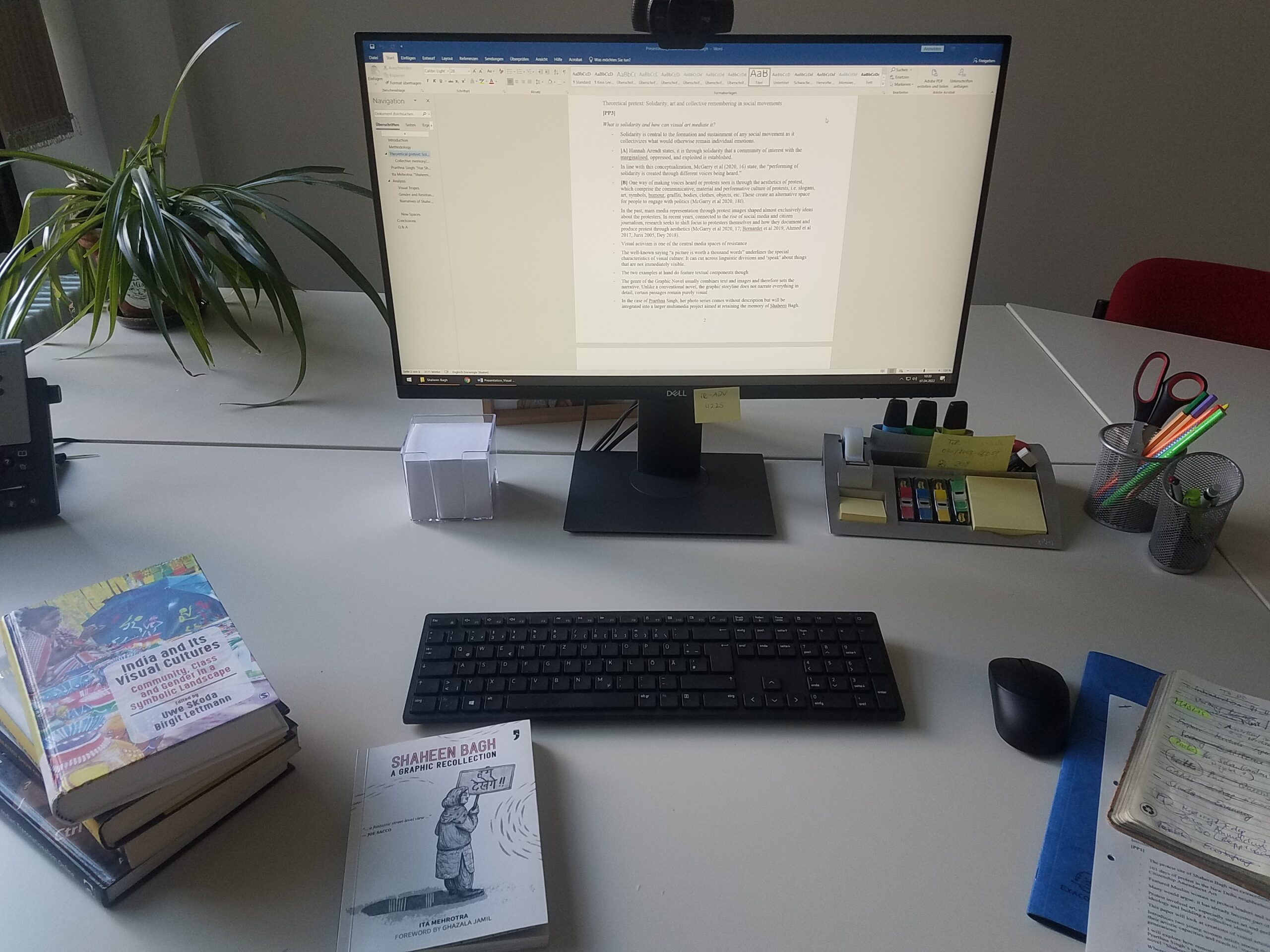 Auf dem Genderblog der HU teilt Dr. Fritzi-Marie Titzmann spannende Einblicke in ihre aktuelle Forschung und zeigt ihren Arbeitsplatz am IAAW, wo sie seit Mai 2021 im Querschnittsbereich Gender and Media Studies for the South Asian Region im BUA-Verbundprojekt RePLITO ("Beyond Social Cohesion: Global Repertoires of Living Together") tätig ist.
Titzmann berichtet von den Hürden der qualitativen Forschung in Zeiten der Pandemie und wie vermeintliche Einschränkungen neue Perspektiven ermöglichen. Sie erklärt, wo sie Motivation für ihre Arbeit schöpft und was sie an ihrem akuellen Forschungsthema der Medienpraktiken indischen Protestbewegungen besonders interessiert. Schwerpunkte ihrer Arbeit sind dabei die Protestbewegung von 2019-20 in Shaheen Bagh, Neu-Delhi, gegen die Einführung eines neuen Staatsbürgerschaftsgesetzes und die Bewegung gegen drei neue Agrargesetze von 2020-21.
Wer mehr über Titzmanns Projekt und Arbeitsweisen erfahren möchte, findet ihren vollständigen Artikel hier.
---
Dr. Fritzi-Marie Titzmann ist seit Mai 2021 wissenschaftliche Mitarbeiterin im BUA-Verbundprojekt "Beyond Social Cohesion: Global Repertoires of Living Together" (RePLITO, www.replito.de) und Lehrende am Bereich Gender and Media Studies for the South Asian Region (GAMS) am Institut für Asien- und Afrikawissenschaften der Humboldt-Universität zu Berlin.
---
Über die Autorin: Elena Schaetz ist Studentin der Afrikawissenschaften (MA) an der Humboldt-Universität zu Berlin. Ihre Arbeitsschwerpunkte sind Literatur, Kultur, Gender und Queerness in südafrikanischen Regionen.